Make sure your residential and commercial construction projects are done with high-quality and accurate design solutions from KWH Design. It's the ultimate solution for a smooth, accurate, and successful project.
Commercial
We are a full-service architectural design firm that specializes in commercial buildings.
Residential
At KWH Design, we specialize in architectural services for new and existing homes.
Laser Scanning
Get high-precision and smart laser scanning data and design solutions for your project.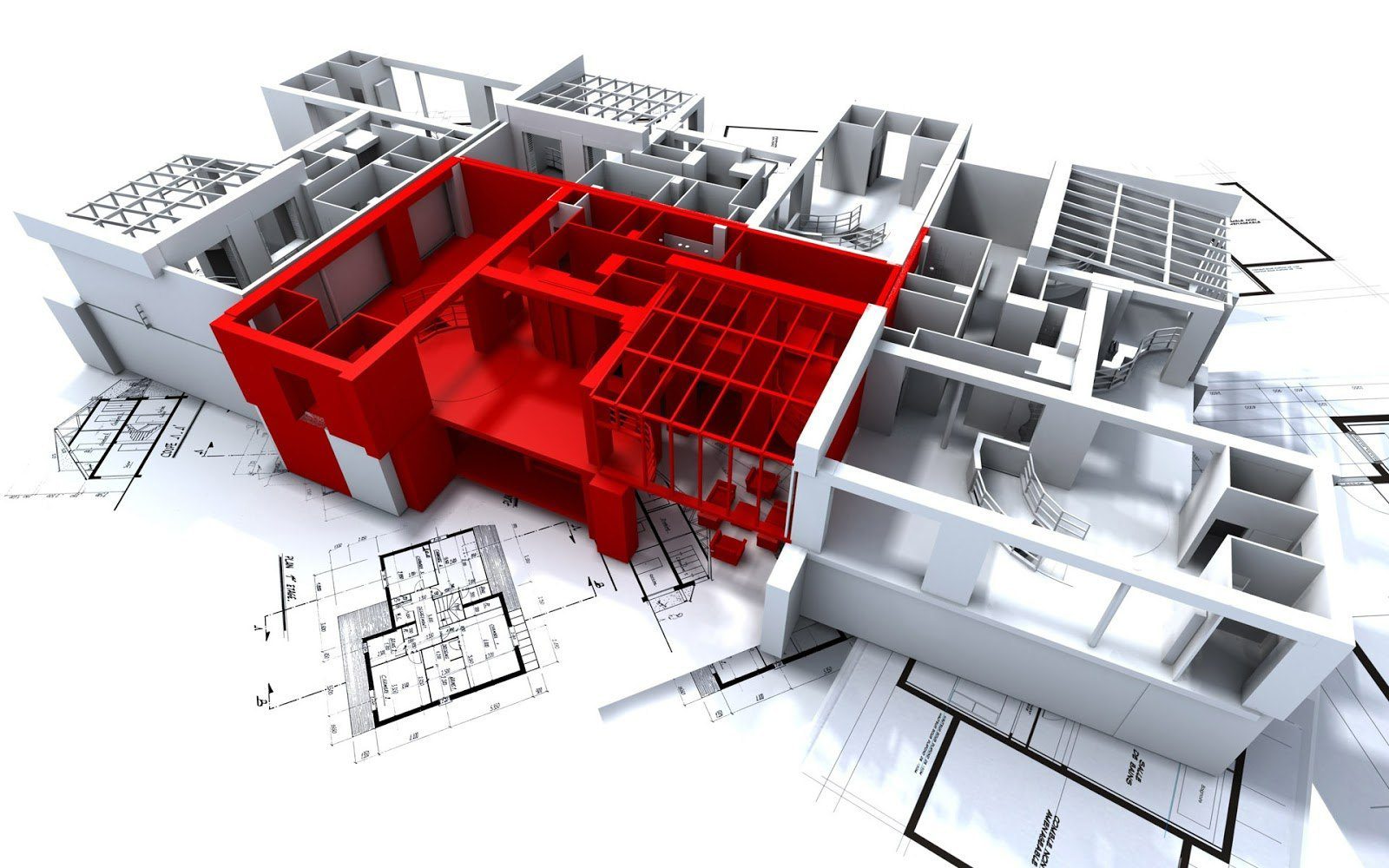 Commercial
We prioritize building strong relationships with our clients and delivering exceptional project outcomes. Our team of architects, engineers, surveyors, and contractors are handpicked based on the project size and requirements. We offer a wide range of design services, from building design to interior fit-ups. Our portfolio includes a diverse range of building types, such as:
Offices I Restaurants I Stores I Private Schools/Day Care Centers I Places of Worship I Housing and Multi-Family Projects I Clinics
Our Approach
Every project comes with its own set of unique challenges. Our process begins with identifying and understanding the constraints, whether they are related to the site, code requirements, or historical restrictions. We then analyze the project's requirements, present design concepts and the optimal solution in 3D, and select materials. This process results in a comprehensive set of permit drawings. Throughout the construction phase, we conduct regular site visits to ensure that the contractor adheres to our design intent.
Our Process
We are dedicated to utilizing cutting-edge technology in our work, both in the production of drawings and project management. We employ BIM (Revit) and rendering software to showcase our designs and create comprehensive sets of design and construction documents. Our proficiency in 3D rendering and visualization allows us to effectively communicate the design intent to clients and streamline the collaboration process. This approach helps us consistently deliver results that exceed our clients' expectations.
Results
At KWH Design, we take a holistic approach that accommodates both internal and external factors. This has a number of advantages for our clients, such as using natural or renewable materials, adhering to energy codes and regulations, and having a lower carbon footprint. We also strive to use solar energy as a power source. Choosing KWH Design means receiving designs for sustainable and long-lasting buildings that prioritize the health and well-being of its inhabitants.
Residential
At KWH Design, we specialize in architectural services for new and existing homes, including single-family and multi-family properties. Our goal is to design stunning homes and spaces while incorporating energy-efficient and sustainable features, utilizing natural and renewable resources. We work on projects of various sizes, including:
Modern New Homes I Traditional New Homes I Multi-Family Homes I Additions I Renovations I Basements I Kitchens I Decks I Sunrooms I Cabanas
Modern New Homes
Traditional New Homes
Multi-Family Homes
Additions
Renovations
Basements
Kitchens
Decks
Sunrooms
Cabanas
Our Approach
At the start of every project, we take the time to understand our clients' needs and goals through an initial call and consultation. If our clients already have a trusted contractor, we can provide architectural services separately without our construction team. Our goal is to find solutions that fit your unique needs and provide you with all the necessary construction documents and approvals for your project.
Our Process
The residential architecture project process is well-planned and requires cooperation from both the architect and the client. Clear communication and a good working relationship make this process smooth for everyone involved. Many times the process involves other trades like civil engineers, surveyors, as well as structural e engineers. It takes place in two phases, including:
Initial Discussions – When clients contact KWH Design, they feel a sense of trust and responsibility that their project is in the right hands; we ask all the necessary questions about what they want to achieve. This step is a quick interview either in person or on the phone to create a connection and understanding of the client and their project.
Information Gathering and Documentation – The design team asks for any information a client has gathered up to this point. All documents from city/town resources that relate to the project are used in the first phase, which is called a feasibility study. The data gathered is needed to design within the regulations for each project.
Our residential architecture design process for house design begins with the client's vision. After an initial on-site consultation, we conduct a feasibility study and discuss programmatic elements, utilizing block diagrams, sketches, and square footage. Clients can have an in-house meeting or a video conference, expediting the design process and fostering seamless communication, ensuring live progress updates on their dream project.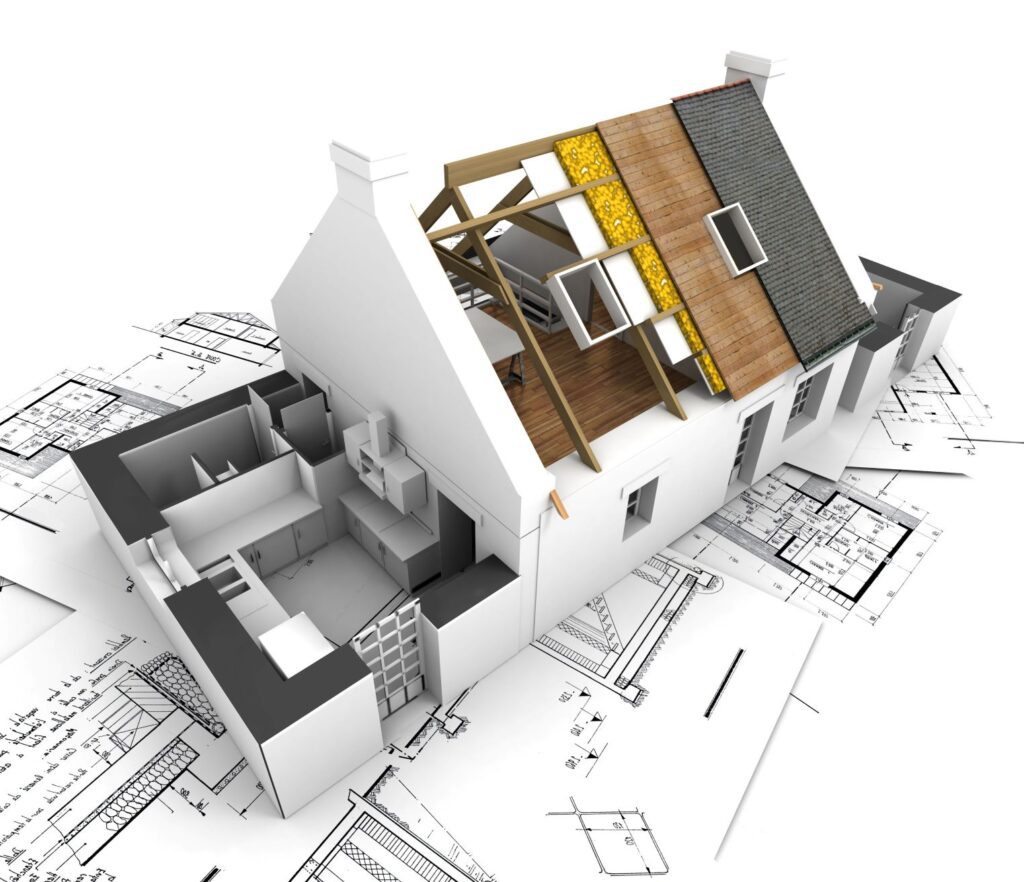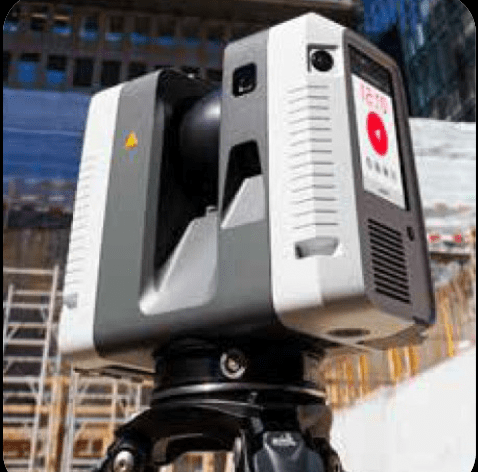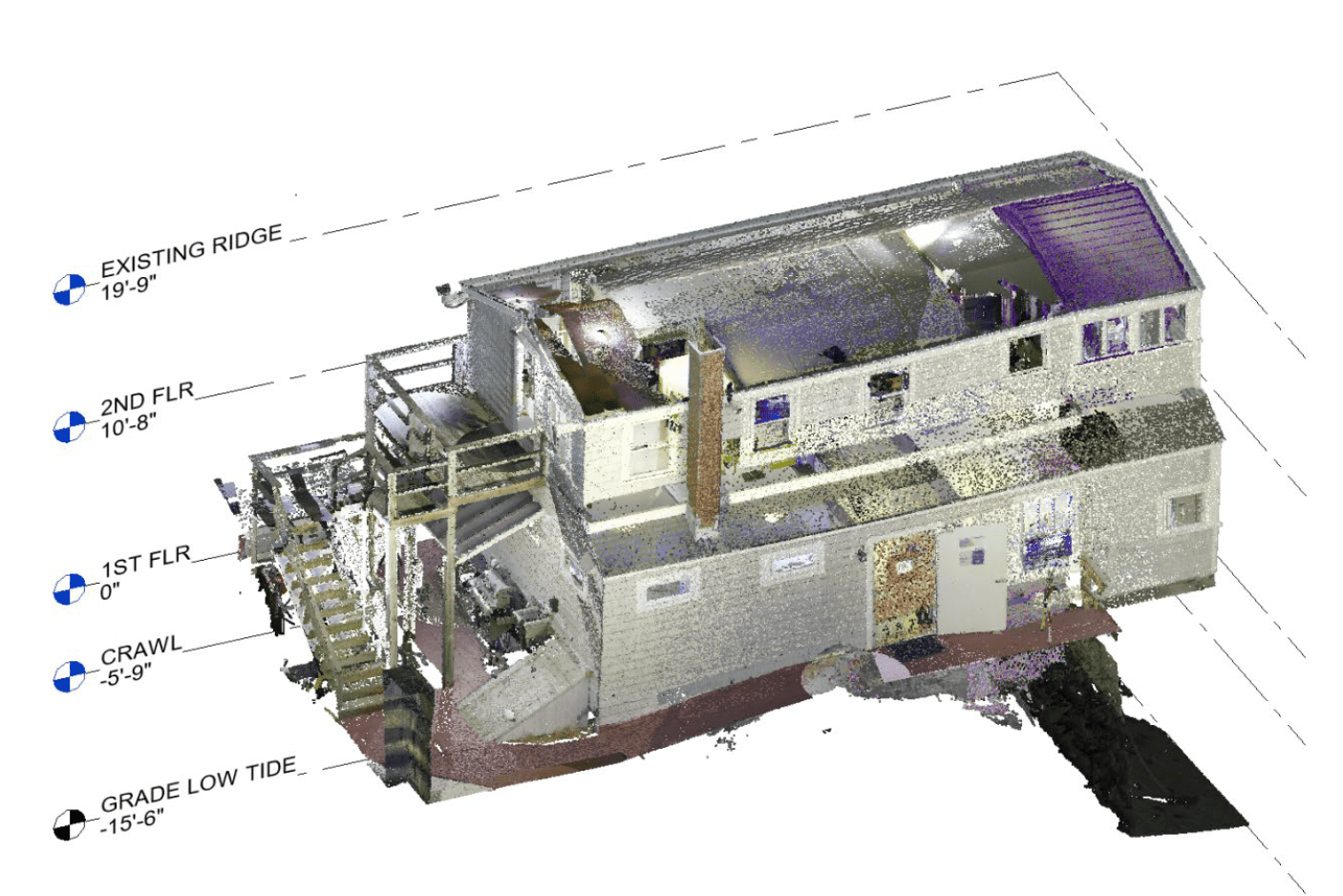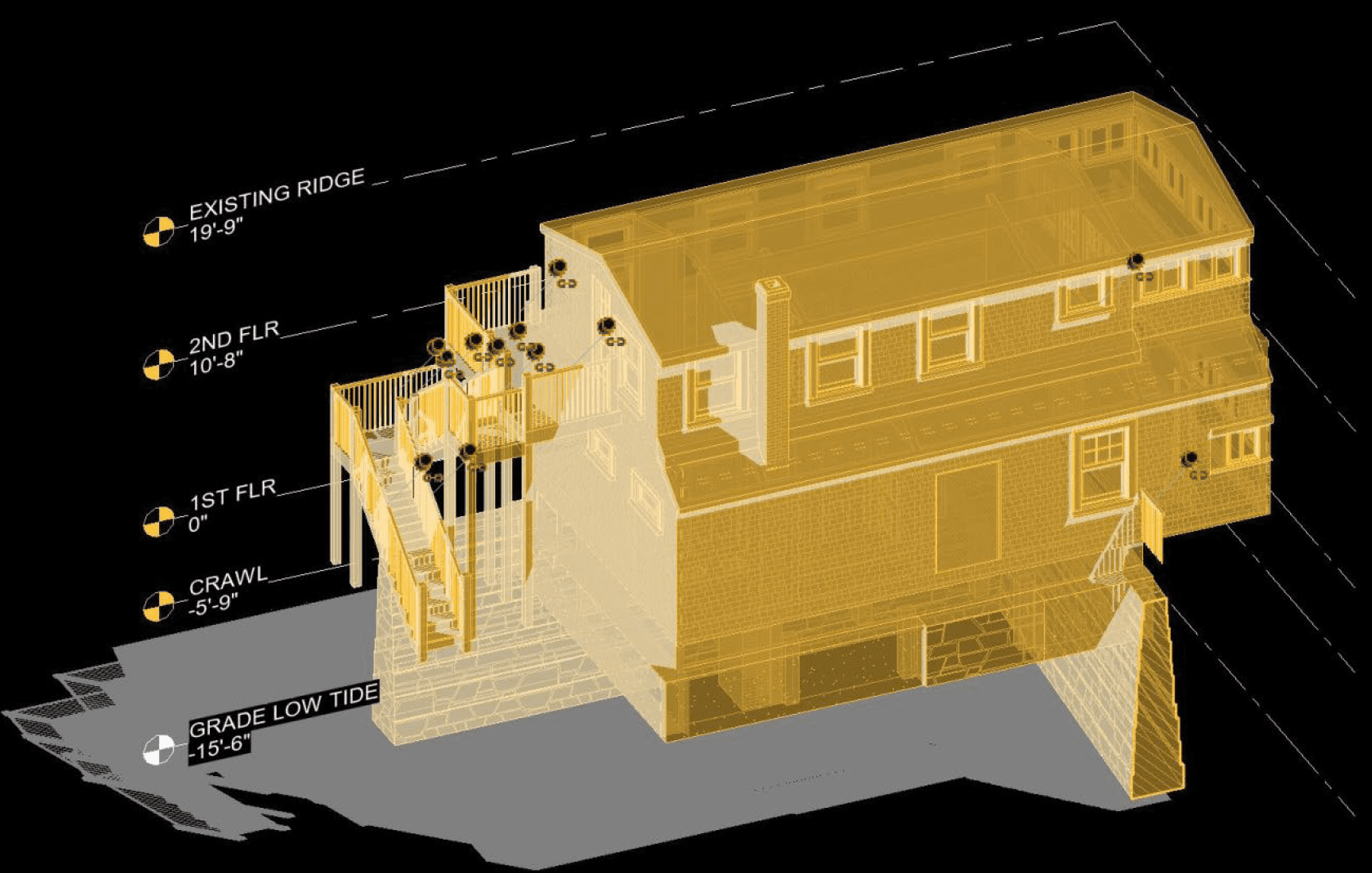 Laser Scanning
At KWH Design, we recognize the importance of meticulous detail in architectural projects to prevent inaccuracies and unforeseen issues. Our 3D laser scanning technology ensures precise documentation of existing conditions, aiding in site surveys, construction monitoring, design modeling, and as-built verification. From walls and windows to HVAC, mechanical, electrical, and plumbing, KWH Design can accurately identify and document all visible elements of a structure. 3D laser scan data lets your team focus on design rather than modeling existing conditions.
KWH Design is highly experienced in architectural scanning, modeling, and data management. The precise data collected eliminates site revisits that eat up time and resources. Precision laser scanning allows architects to work with the finer details of a job site without excessive traditional documentation. Let's get started.
Speed
Our laser scanner is capable of capturing up to 1 million points per second. In just minutes the scanner is capable to complete a 360° by 300° scan, capturing measurements of everything to the smallest detail that is visible to the scanner. What takes days to measure using standard methods of surveying can now be achieved in hours.
Accuracy
The scanner has a range of 130 meters with accuracy of
just +-2mm. Due to the lack of human error factor during data registration.
No Human Error in Data Capture
The 3D laser scanners capture measurements of all visible surfaces and objects within their range in 360° by 300°, eliminating any human error factors in data collection.
Surveying Hard to Access Areas
With scanner's range of 130 meters, this allows us to precisely capture measurements of even hard to reach areas such as high ceiling and building elevations.
Suitable For Sensitive Environments
The 3D laser scanner we use shoots out lasers in all directions 360° by 300° capturing measurements of all visible surfaces at a distance of up to 130 meters. As it is contactless method of survey, this makes it the perfect choice for surveying sensitive properties such as churches and historical buildings.
True-View Imagery
Extract any measurements from 3D Point Cloud or directly from 360° Images.
Point Cloud Virtual Tours
Benefit from virtual tours with ability to extract any measurements, minimizing the need of sitevisits.
What to Expect from Us? Only the Best!
Accuracy
We use laser scanners to capture point cloud data with unsurpassed speed and millimeter accuracy.
Precision
In-house CAD technicians create customized deliverables, such as 3D models and 2D drawings.
Trust
Our family-owned business builds and values relationships with every client.
Start Your Project!
Contact Us
"*" indicates required fields